Latest News > Passing of Mirela Bolentiru
It is with heavy hearts that we announce the passing of our dear friend and colleague Mirela Bolentiru. She lost her battle with cancer on Wednesday, June 24. She was 56.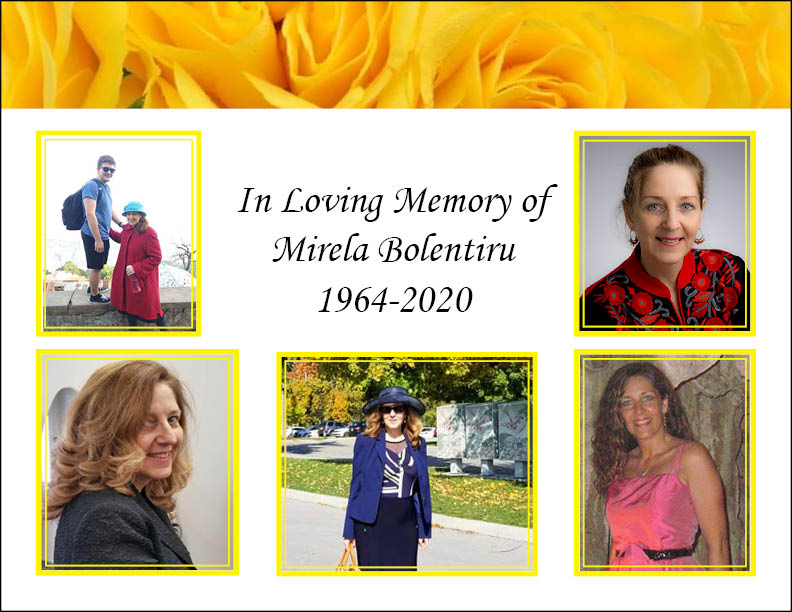 Mirela's first love was her son Cosmin, lovingly known as "Cosmie." Mirela considered CAIRP and its members her second family for the 14 years that she was a team member.
Mirela was born in Galati, Romania and served in the Romanian Armed Forces. She earned her Master's in Engineering in 1987 before immigrating to Canada. Mirela started her career with CAIRP in 1999 working as then-President Norm Kondo's Executive Assistant. Mirela had a passion for knowledge and while working at CAIRP she completed her CAE designation from the Canadian Society of Association Executives. She was so proud of this designation and applied the knowledge she acquired to enhance her contributions and value to our members.
Mirela left CAIRP for a brief period, though she would often visit the CAIRP office and staff and inquire about members. Upon her return to CAIRP in 2017, she worked in the Education department. After one year, she returned to her passion of working directly with members in the Membership department.
She came to work with a smile on her face every day and expressed many times how happy she was that she worked at CAIRP. She never hesitated to help a fellow team member. Mirela could always be counted on for a good time and loved to dance and socialize with her friends. Her style was one-of-a-kind. She loved life as much as she loved her famous hats. Mirela thought the absolute best of everyone. Even while battling cancer, her focus was always on the well-being of others. She always kept her sense of humour, even during chemo sessions.  During her illness there were three things that kept her going, her faith, her son and her anticipated return to CAIRP.
We wanted to let CAIRP members know how much you meant to her; she truly loved her job and found great joy in her daily interactions with you. 
A caring and kind, thoughtful and cherished colleague, a friend that will be missed by many but never will be forgotten by those who were fortunate enough to have known her.
CAIRP will be making a donation to the Canadian Cancer Society in honour of Mirela. In lieu of flowers, Mirela's family has requested that donations be made in Mirela's memory to a Canadian Cancer organization of their choice. The following link includes a list of such organizations: https://survivornet.ca/cancer-type/all-cancers/canadian-cancer-organizations/
Our deepest condolences go out to Mirela's family, especially her son Cosmin.
May she rest in the peace she so richly deserves.
---
Message from CAIRP Chair Mark Rosen
I was deeply saddened  to hear of the passing of our CAIRP colleague Mirela Bolentiru following a valiant battle with cancer. With a career spanning over fourteen years at CAIRP so many of us had the pleasure to experience her professionalism and passionate commitment to CAIRP members first hand. Her warmth and charm were contagious and her genuine care for members was greatly appreciated by us all.
On behalf of the CAIRP Board and members our thoughts are with Mirela's son Cosmin and her family and friends. Our thoughts are also with the CAIRP team who lost a very valued and beloved colleague and friend. CAIRP will be making a donation to the Canadian Cancer Society in memory of Mirela. We are still awaiting further details from the family and we will advise you where you can send your condolences should you wish to do so.
---
 Message from Past President, Norm Kondo
Today I am mourning the loss of Mirela Bolentiru who was a valued colleague at CAIRP.
21 years ago I was interviewing for an Executive Assistant and had just finished speaking with a Romanian lady who had been here two years and was complaining about the difficulty in getting a job without Canadian experience.  Mirela was my next interview.  She had a Master's degree in Mechanical Engineering.  She had been in Canada for 6 weeks and was already working as a key punch operator.  It was an easy decision to offer her the job. 
She was loyal, smart, dedicated and hardworking.  She was a brilliant copy editor and knew the bylaws inside and out.  More than once, she made an 11:00 p.m. run to FedEx to make sure the Board of Directors packages were out on time. 
Her thirst for knowledge was inexhaustible and she completed her designation as a CAE (Certified Association Executive).  After she left CAIRP, she would call me to tell me about her job interviews.  Her answers to the questions they gave her were astounding. 
Mirela played a huge role in the success of the Association and whether or not you had the pleasure of knowing her, pause for a moment and say "Thank you Mirela".