2023 Annual Review of Insolvency Law (ARIL)
February 3, 2023

The ARIL Society is pleased to announce that the 20th Annual Review of Insolvency Law Conference will take place on Friday, February 3, 2023 in Calgary, Alberta at the Calgary TELUS Convention Centre located on 136 8 Ave SE.
Date & Time:
ARIL CONFERENCE
Friday, February 3, 2023
7:30am – 5:00pm MT
Location: Calgary TELUS Convention Centre
Scroll down to REGISTER for the Conference
OPENING RECEPTION:
February 2, 2023, 6:00pm – 7:00pm MT
Location: Calgary TELUS Convention Centre
DOWNLOAD THE BROCHURE HERE
Conference Fee
Conference Fee (including podcast access post event):
General Registrant: $975 + tax
Judges, Academics, Articling Students, CQP Students: $225 + tax*

For 2023 Conference Only: Refund 2 weeks prior to the opening of the
Conference, by Thursday, January 19th by 8pm ET are permitted. After this date, no refunds will be permitted for any reason.
Substitutions will be allowed up to 3 days before the opening of the Conference, by Monday, January 30th.
All requests for a refund and/or substitution must be provided in writing to natalie.alfano@cairp.ca.
Inquiries:
Natalie Alfano, Director of Professional Development, CAIRP
natalie.alfano@cairp.ca
Josephine Song, Event Assistant, CAIRP
josephine.song@cairp.ca
ARIL Podcast Program
The popular ARIL Podcast Program is back this year with 15 episodes and will be presented to all attendees for access on Conference day. Please check your email for further instructions on how to listen to the episodes. Please click HERE to view the full program listing. If you cannot attend the Conference, the Podcast Program will available for separate purchase post event HERE. 
ARIL Podcast Program: $500 + tax 
Conference Hotel Reservations:
For attendees wishing to book a guest room, a reserved block of rooms is available at the Hyatt Regency Calgary. The deadline for booking guest rooms at the discounted conference rate of $199 plus taxes and fees for a standard room is January 16, 2023. https://www.hyatt.com/en-US/group-booking/CALRC/G-ARLC Individuals will also be able to make, modify or cancel reservations by calling 888-421-1442 toll free and referring to the "ARIL Conference." Guest rooms go quickly, so please reserve your room early.
Please note it is the policy of the hotel that a non-refundable deposit for one night stay plus taxes and fees will be charged by the hotel on  The deposit will be forfeited if the reservation is cancelled after January 27th.
ARIL Journal
Available on CanLII; access information to be sent to conference attendees. The Papers will also be available on InsolvencySource for existing subscribers and published by Thomson Reuters as a hard
copy/e-book for purchase. Pricing information will be available soon.
CPD/CLE
More information coming soon.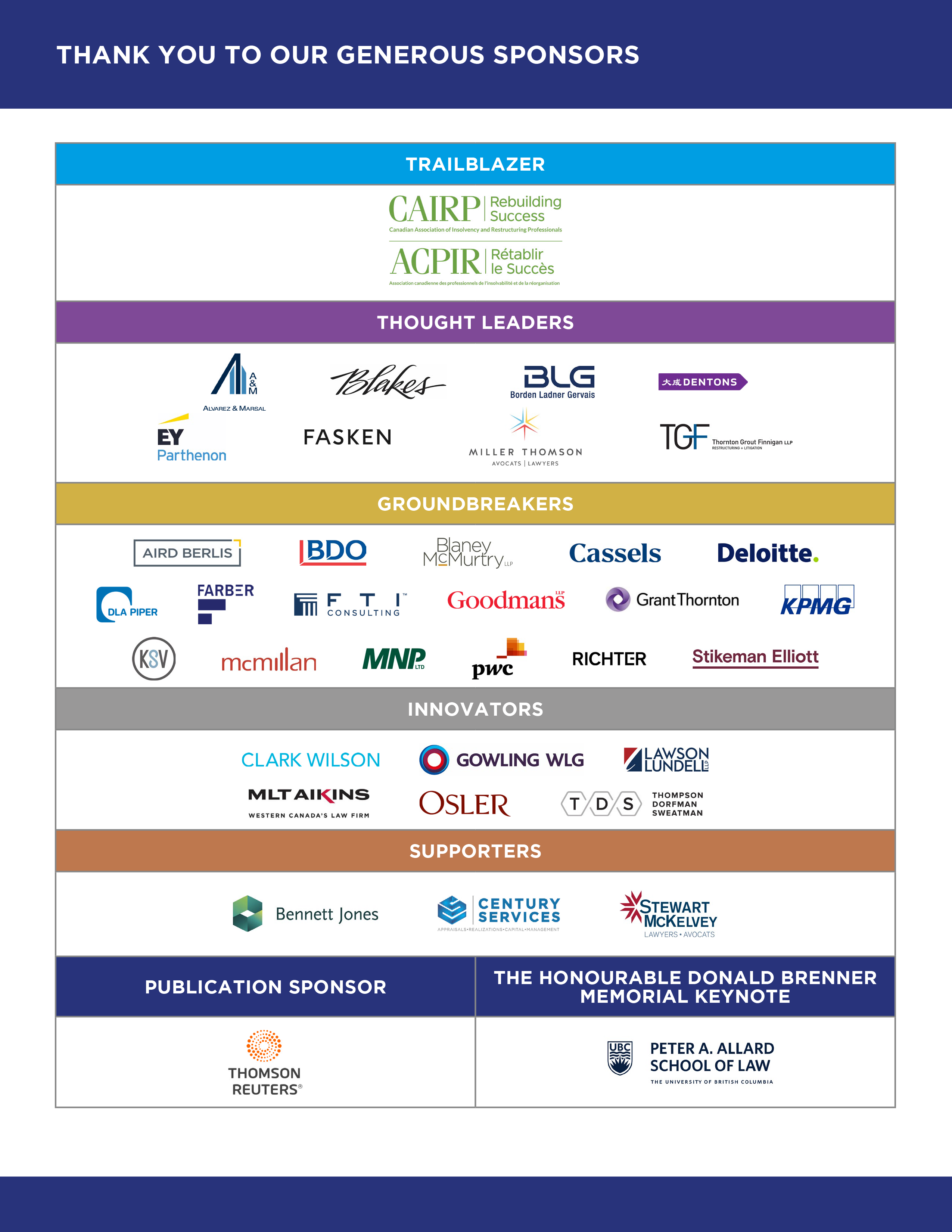 ---
 

 Conference Committee

Co-Chairs:

Kelly Bourassa, Blake, Cassels & Graydon LLP

Deryck Helkaa, FTI Consulting Canada Inc.

Honourable Justice Barbara Romaine, Court of King's Bench of Alberta

Co-Editors:

Mr. Justice Blair Nixon, Alberta Court of King's Bench
Professor Jill Corraini, Business Law Camosun College

2023 Conference Planning Committee:

J.J. Burnell, MLT Aikins LLP
Gabriel Faure, McCarthy Tétrault LLP
Michelle Grant, PwC Canada
Christopher Keliher, Blake, Cassels & Graydon LLP
Julie Kennedy, MNP Ltd.
Marie Kozlowski, BDO Canada Limited
Allan Nackan, Farber Group
Arad Mojtahedi, Norton Rose Fulbright Canada LLP
Francyne Myers, Allan Marshall & Associates Inc
Emily Paplawski, Osler, Hoskin & Harcourt LLP
Lindsay Pellett, PwC Canada
Joe Thorne, Stewart McKelvey LLP
Mahesh Uttamchandani, The World Bank Group

 

 

* Articling students must be studying full time (i.e. not working full time) in order to be eligible for the articling registration fee. CQP students must be enrolled in the CIRP Qualification Program at the time of event registration. PCIC/IA students must register as a General Registrant. Academics must be currently employed in a teaching/academic role at a university or college in order to be eligible for the academic registration fee.

  
---
Registration