Rebuilding Success Magazine Features - Fall/Winter 2023 > Hard-rocking, hard-working, hardcore professional
Hard-rocking, hard-working, hardcore professional
October 8, 2023
CAIRP's new Chair André Bolduc is a soft-spoken heavy metal enthusiast with experience, expertise, and the unwavering respect of his peers.
By Andrew Flynn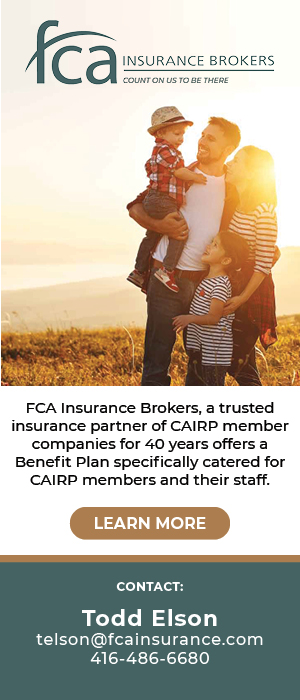 It's a safe bet that André Bolduc, FCIRP, CPA, CA, LIT, generally soft-spoken and unflappable, is the first CAIRP Chair to count heavy metal music as chief among his passions. And there can be no doubt that he is the only person to take the end seat on the Association's boardroom table who has caught back-to-back Metallica concerts, as Bolduc did recently.
"I like all kinds of music, but I love hard rock and heavy metal," Bolduc says with a shrug. "I quite enjoy it – I just attended my 14th and 15th [Metallica] shows."
But the image Bolduc projects in his professional life is miles away from that of the stereotypical leather-clad, long-haired headbanger. In fact, colleagues and friends describe him as soft-spoken, analytical, thoughtful, and considerate – and as the consummate insolvency professional.
And his rock and roll aspirations bear that out: "While I might not have the musical talent, imagine being Metallica's accountant as a dream side gig," he says with a laugh.
Well-earned respect from peers far and wide
Rock and roll dreams aside, Bolduc has made an impression far and wide across the insolvency industry and has gained the unabashed respect of his peers. In 2023, he received CAIRP's highest honour, becoming a Fellow Chartered Insolvency and Restructuring Professional (FCIRP). FCIRPs are recognized for distinguished and continuous service to the Association and for making a significant contribution to the field of Canadian Insolvency Practice.
In 2021 he received the Keith G. Collins Memorial Award, which recognizes integrity, professionalism, unpretentiousness, and willingness to share knowledge, among other virtues, and in 2018 he was recognized for volunteerism with the Outstanding Volunteer Award.
"I have known André for many years, as we have both been very involved in the volunteer activities of CAIRP and crossed paths often at conferences, meetings, etc.," says outgoing CAIRP Chair, Jean-Daniel Breton, CPA, FCIRP, LIT.
"Throughout these past four years on the executive committee, I saw a seasoned professional with deep knowledge and competence and a great deal of common sense, pragmatism, and diplomacy, which as everybody knows, I sometimes lack. These qualities make him fully apt at being a great chair for CAIRP."
Early adventures in insolvency
Born and raised in the Northern Ontario town of Kapuskasing, Bolduc was initially schooled in French and when it came time to move on to higher learning, he decided to head south. His choice came down to studying in Sudbury or Ottawa. "I picked the University of Ottawa because it was the bigger adventure and was the furthest away," he says.
Bolduc would pursue a Bachelor of Commerce with an accounting specialization, working as a student for the firm Ginsberg Gluzman Fage & Levitz and obtaining his CA (now CPA) designation. From day one he was drawn into the firm's insolvency division, Ginsberg Gingras, where he would get his introduction to the insolvency profession.
"It was super busy and challenging which I liked," Bolduc recalls. "Being a francophone, I started my career on the Québec side and I did that for four years. Then I moved on to BDO in Ottawa in 1997, and I've been here ever since. So, I'm at over 30 years of experience now. I'm not sure where all that time went but I suppose I am no longer considered a young professional," he says with a quiet laugh. "Well, I don't feel old, but I am well-seasoned and ready to go."
Former CAIRP Chair Chantal Gingras recalls working with Bolduc at the very beginning of both of their careers.
Devoted, analytical, meticulous
"He was tasked with producing statements of receipts and disbursements and I was belting out receiver reports," she says. "The impression I had of him then is the same I have of him now – professionally, André is a very hard-working, devoted, analytical, and meticulous individual."
"Personally, once you get through the layer of a quiet, thoughtful, persona who adores his wife and is very loyal to his friends and family, you discover a crazy Metallica fan who loves travelling to see his favorite band."
Thinking back, Bolduc remembers gravitating quickly to insolvency over accounting.
"I enrolled in the [CIRP] program after I did the CPA – auditing and accounting was not for me. Part of it might have to do with me being red / green colorblind which the auditors, out there from the early 90's, will understand," he says jokingly.
"I enjoyed the insolvency side. I think if you can solve problems and like solving problems you would gravitate towards the insolvency side. You had to be an independent and creative thinker as well and I like that, I like the challenge, it drives me."
Having just celebrated 26 years with BDO, 23 as LIT, and more than a decade as a CAIRP volunteer, Bolduc has no regrets about choosing his career path. "Being goal-driven is intrinsic to my nature, and insolvency work aligns perfectly with that. I get a deep sense of accomplishment from this profession. I believe it's the perpetual challenge that resonates with me."
'Extraordinary' service as a CAIRP volunteer
The qualities that Bolduc expressed as a trustee caught the eye of former CAIRP Chair Uwe Manski, FCPA, FCA, FCIRP, who was also working at BDO at the time. Manski convinced Bolduc around 2007 that he would be a good addition to the Ontario Association's (OAIRP) board.
"Even early in his career as a CIRP and an LIT, André demonstrated a number of qualities which I, who was then president of the firm now known as BDO Canada, thought were admirable and which caught my attention," Manski says.
"I am glad that many years ago I urged him to become active in the profession by joining OAIRP, and eventually CAIRP, and I am confident that André will be an excellent Chair of CAIRP."
Bolduc's service to CAIRP has been extraordinary since he began his tenure as a volunteer. In addition to managing his busy career, his time as a board member has been spent on dozens of committees – the Small Practice Committee, the Consumer Standards Committee, the Consumer Practice Committee, the Governance Committee, and the Strategic Planning Committee, to name only a few.
He was also a CAIRP Board Member from 2011 to 2015 and he chaired the Consumer Advocacy Task Force which resulted in CAIRPs 2014 submission on the Statutory Review of the Bankruptcy and Insolvency Act to Industry Canada.
He then joined the CAIRP Board's Executive Committee in 2019 and served during an unprecedented time for CAIRP and the industry, created by the COVID-19 pandemic, first as Secretary to the Board and then as Vice Chair.
CAIRP President Anne Wettlaufer, noted that one of her first experiences seeing Bolduc in action was at the start of the pandemic when the country went into lockdown. It was a tumultuous time as CAIRP and the OSB worked tirelessly through a broad range of issues CAIRP members were facing. Bolduc was a key member of the COVID-19 Pandemic Response Working Group, she recalls.
Getting things on track during COVID
"In particular, one critical piece of work was getting emergency orders put in place across the country," she says. "André put up his hand and worked closely with the OSB and the Department of Justice to get emergency orders approved in each province and territory across the country.
"Specifically, André spent considerable time working with the OSB on the content of the Order, found lead applicants, helped prepare the materials for each application and attended a number of the hearings. As a result, all Canadians who filed for insolvency were provided with greater flexibility to meet their obligations during this time of economic uncertainty."
His propensity to act swiftly and effectively has earned Bolduc high regard from industry and government alike, Wettlaufer says, making him "the go-to person to get things done."
"André is strategic in his thinking, he is understated, a great listener, and a team player – he always takes the time to ask how the CAIRP team is doing," Wettlaufer says.
"His deep understanding of public policy development and extensive knowledge of the industry from a national, provincial and community level has been particularly helpful during this challenging time."
Not only that, Wettlaufer notes that Bolduc is also well-versed in international developments, all attributes that have served both himself and CAIRP well throughout his career. "His ability to get to the nub of issues and take different points of view into account, including those of the industry's varied stakeholders, is one of his superpowers."
Pastimes as a mirror on the professional
Bolduc's other pastimes help shed light on the strength of his professional persona – he gravitates towards those that both challenge and enlighten. A seasoned traveler, Bolduc counts hiking among his passions and his chosen excursions are anything but a walk in the park.
"I've embarked on several challenging hikes with my most memorable being Mount Kilimanjaro. That was truly the highlight of my experiences so far. When you undertake these adventures, the initial moments often make you wonder, did I take on more than I can chew?"
Yet, it's all about breaking the journey down into smaller, manageable pieces. Every step you take leads you to one milestone after another, drawing you closer to your goal. I embark on these adventures not because they're effortless, but for the joy of the journey, the joy of overcoming each challenge, and the fulfillment of achieving what you set out to do. It demands skill, thorough preparation, and most importantly mental toughness. I find that a lot of successful people in our profession exhibit these same types of characteristics.
Bolduc draws a further analogy between his profession and another hobby, the appreciation of wine. Having earned a sommelier certificate, Bolduc has mastered the wine steward's art of understanding great wines, what grapes are used to produce them, where it was produced, how to serve them and how to pair the world's innumerable vintages with different types of food.
"You learn about all these wine regions, whether it is regulation, the climate, the grape varieties and how they make the wine – it's just fascinating to learn all the theory and even more fascinating to put that knowledge into practical use."
And, he says, there are parallels between the sommelier's art and insolvency. "Insolvency requires taking deep dives into the Bankruptcy and Insolvency Act, case law and other legislation - being an expert really. Just like pairing food and wine, you bring it all together to get the best solution for the person or company that you are helping while still balancing the interest of all stakeholders. When you can pull that off it's amazing."
A go-to person on national practice initiatives
Former CAIRP Chair Mark Rosen can attest to the clarity of vision that Bolduc brings to his work. Their working relationship began during their time as partners with BDO Canada, where Bolduc "not only operated a very busy and profitable insolvency practice in Ottawa, but he also became one of the national leaders of BDO's consumer practice, assisting in merger opportunities and becoming a go-to person on national practice initiatives."
"André has an engaging personality that makes him easy to work with – essentially, he 'gets it'," Rosen says. "When I became Vice-Chair and then Chair of CAIRP, it was comforting to know that he would be serving on the Board. He knows the issues, knows the players, and has experience. CAIRP is extremely fortunate to have such a capable person as its incoming Chair."
Bolduc will take the Chair at a time of relative stability for CAIRP, but there are many challenges in the insolvency profession, he admits. With Canadian consumers and businesses still picking up the financial pieces since the disruption of the COVID-19 pandemic, he is ready to get to work on a number of issues important to CAIRP's membership.
First among his priorities as incoming Chair will be to continue to raise the profile of current members and drive home the point that when a Canadian is experiencing financial difficulties, an LIT is the first professional they should talk to.
"On the corporate side, it's more towards promoting the CIRP designation," he says. "I know that our corporate members often need to scale up quickly, so it's important for them to be able to get qualified people, and it's important for us to continue to provide and improve our education programs to get these people qualified as efficiently as possible while maintaining our high standards."
A priority: Modernizing the tariff regime
Second on his list of pressing issues is the modernization of the consumer tariff regime. "That's been a sore point for our members for a long time," Bolduc says "So I'd like to see us bring this to a head soon. Our consultations on the Strategic Plan said that this was a priority, so we're going to make that a priority."
"Third I would say is looking at more ways to provide value for our members. There will be strategic initiatives around that and, of course, there are things that we need to keep doing that we're doing well already. Education, for example, we're constantly renewing the programs to make sure they are top-notch. Interventions – we've been doing good work in that area and we need to continue our efforts."
"CAIRP is also doing great work in the area of advocacy with the Office of the Superintendent of Bankruptcy, the Government of Canada or when legislative bills come up. This needs to continue as well."
Another initiative is CAIRP's advocacy for and fostering of equity and diversity in the insolvency profession. Though he acknowledges that CAIRP plays no part in the hiring of professionals in the wider insolvency community, he believes the Association does have a place in demonstrating that the industry can be both inclusive and representative of Canadian demographics and values. And he says he has noticed that the profession has changed and is continuing to change.
"I think the first step for CAIRP was to start gathering relevant data on this," Bolduc says. "Ultimately, it's about making sure that our profession provides an environment that is welcoming and where people feel safe regardless of their background. Furthermore, our profession needs to provide opportunities for growth for everyone at all levels in order to be truly inclusive."
"Personally, I feel that I have learned a lot in the last number of years, whether it is from seminars, presentations, reading and having discussions, on the various issues surrounding what minorities or people with different gender identities deal with. I have more to learn, but I do feel a lot more comfortable about having those conversations – it is a process, but it is something I'm committed to."
Setting the course for the years ahead
Bolduc's work with CAIRP's most recent Strategic Review Committee gave him a profound insight into the wants and needs of the membership and the wider insolvency community. He feels consultations conducted for the review were wide-ranging and thorough, confirming a number of issues the committee had suspected were percolating.
"I was happy to see that there weren't any huge surprises," he says. "We interviewed a lot of stakeholders – members, students, academics, lawyers, and associations from other countries. You always learn new things, and when you consult so extensively and widely, then you can confidently go to the membership to outline the priorities, suggested strategies. I'll be presenting the Strategic Plan at the AGM."
"I am really looking forward to engaging our CAIRP team, members and volunteers in designing the tactics that will bring our Strategic Plan to life."
As for advice from the outgoing Chair, Breton says he can offer Bolduc none.
"He knows what he is doing and does not need my advice. I would rather let him know that he can always count on his friends to exchange with, bounce ideas with, or brainstorm, and I'm pleased to count him as a friend."