Richard Goldhar
CIRP, LIT
CIRP, LIT
Goldhar & Associates Ltd
TEL: 8555415114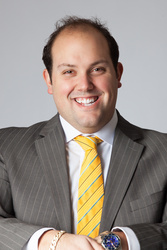 Professional Profile:
Richard Goldhar is a Licensed Insolvency Trustee, having worked with a National Accounting and Insolvency firm prior to opening Goldhar & Associates Ltd. in December of 2013.
Richard has spent many years working alongside top professionals within the field of insolvency to learn the art and craft of restructuring debt. Vastly experienced at helping Corporation's facing financial difficulty restructure their finances and operations and equally zealous to assist an honest but unfortunate individual in need of an opportunity to Shed the Debt and start over again. Deeply rooted within the community in which Richard lives and actively volunteers with various organizations within the communities served by Goldhar. Richard is proud to be an evaluator with the Marking Centre for CAIRP national board examinations.
Corporate Profile:
Goldhar & Associates Ltd. ("Goldhar") is a Licensed Insolvency Trustee firm dedicated to helping hard working people find fast and effective ways to relieve the burden of debt, achieve their goals and build lifelong financial stability. Working with Goldhar and our unique shed the debt ® strategy which is designed to help your clients repair their credit rating, resolve tax issues, or even eliminate unpayable debts – all of which helps your clients build stronger relationships with your team of professionals and grow your business. As a team of professionals, we here at Goldhar help company's restructure their debt and find innovative solutions while complying with all the regulatory bodies and frameworks as set out by the Office of the Superintendent of Bankruptcy. Our service lines include business advisory and restructuring services.
Services provided:
Micro, Small and Medium Enterprises Insolvency
Consumer Insolvency
Corporate Insolvency
Consultation provided:
Virtual
In Person (in line with provincial guidelines)