CAIRP: Q2 2023 Canadian Insolvency Statistics
Business Insolvencies up 36.9% Year-Over-Year in Q2, Reaching Ten-Year High
September 22, 2023
TORONTO – August 3, 2023 – Canadian business insolvencies were up 36.9% year-over-year for the second quarter, reaching 1,090 business insolvency filings, the highest quarterly volume since 2014.  
The Canadian Association of Insolvency and Restructuring Professionals (CAIRP), the national voice on insolvency matters in Canada, says that the financial burden of high-interest rates has increased the stress on businesses.
"Higher borrowing costs are one of the biggest contributors to distress. Canadian companies may be either in need of more credit or are now faced with higher capital costs on heavy debt loads," explains Jean-Daniel Breton, Chair of CAIRP. "On top of that, higher interest rates have weakened consumer demand."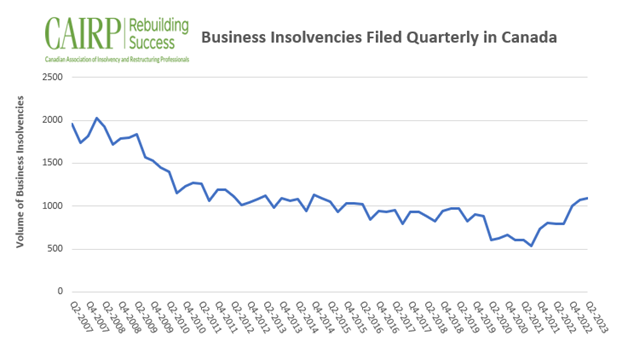 Image inclusion: Business insolvencies increased to 1,090 in the second quarter of 2023, reaching the highest volume since 2014.
The significant increase in insolvencies means more Canadian businesses are under the growing pressure of weakening economic growth, high-interest rates and inflation, but many small business owners overlook bankruptcy options versus walking away from their insolvent corporation/business.
"Rather than opting to abruptly shut down their businesses and abandon them, certain business owners who face insolvency should consider seeking professional guidance regarding potential debt relief solutions to restructure or wind down their operations," advises Breton. "Licensed Insolvency Trustees are the sole professionals authorized to administer government-regulated insolvency options. Seeking their expertise can provide valuable insights and assistance in navigating the available avenues for debt resolution."
The exact consequences of business insolvency depend on several factors, including the business structure but in some cases, it is possible to preserve the business through restructuring or corporate workouts. Through a comprehensive review of the operations and finances of the business, Licensed Insolvency Trustees use their extensive specialized training and knowledge of governing legislation to guide businesses through financial hardship.
Business insolvencies for the 12-month period ended June 30, 2023, increased by 37.8% compared with the same period last year. Accommodation and Food Services; Retail Trade; Manufacturing and Construction registered the largest increases in the number of insolvencies.
Consumer insolvencies up 23.5% in Q2 continuing upward trend toward pre-pandemic levels
Canadian consumer insolvencies increased 23.5% in the second quarter of 2023 compared to the same quarter last year, continuing an upward trend toward pre-pandemic levels. In the second quarter of 2023, an average of 343 individuals filed consumer insolvency each day, resulting in a cumulative count of 31,224.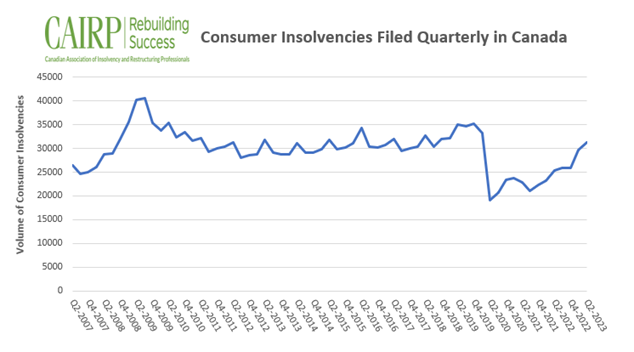 Image inclusion: Consumer insolvencies increased to 31,224 in the second quarter of 2023, continuing their upward trend toward pre-pandemic levels.
"Consumer insolvencies in Canada are steadily rising, reaching levels comparable to those observed before the pandemic. The upward trend is attributed to escalating debt-carrying costs and inflation, with the potential for consumer insolvencies to surpass pre-pandemic averages later this year," says André Bolduc, Licensed Insolvency Trustee and Vice-Chair of the Canadian Association of Insolvency and Restructuring Professionals (CAIRP). "Mounting debt combined with rising interest rates may push more individuals to consider insolvency as a viable option, given the increasingly challenging task of managing their debt obligations in the current higher rate environment."
Debt challenges resulting in insolvency typically arise from a combination of financial setbacks. For many individuals, the absence of emergency savings to fall back on in times of income loss or increased debt-carrying costs compound the challenges. Irrespective of the circumstances, those struggling with debt should meet with a Licensed Insolvency Trustee.  
"Due to their extensive specialized training, Licensed Insolvency Trustees are the most qualified, educated debt-relief professionals in Canada. They offer guidance on all of the available debt-relief options, including the possibility for debtors to negotiate with creditors and settle their debts by offering a percentage of the total amount owed," says Bolduc.
Licensed Insolvency Trustees are the only debt relief professionals who can facilitate all the debt relief options available, including consumer proposals and bankruptcies. As the only federally regulated debt professionals, they are legally and ethically required to fully assess an individual's financial situation and explain in detail all the debt-relief options, while providing accurate and unbiased advice. They are also the only debt professionals who can offer legal protection from creditor actions and stop collection calls and wage garnishments.
Those facing debt challenges can receive advice from a Licensed Insolvency Trustee with no commitment; most Licensed Insolvency Trustees offer the first consultation at no cost.
To find a government-regulated Licensed Insolvency Trustee visit:  www.cairp.ca/find-a-lit.html      
For media representatives who would like to speak with one of our experts, contact:
Angela Joyce
Media Relations
Tel: 403-681-9286
aj@whiterabbitpr.com