CAIRP: Q2 2022 Canadian Insolvency Statistics
Business insolvencies up 30.9% compared to last year, up 26.3% in the first half of 2022
August 5, 2022
TORONTO – August 5, 2022 – The Canadian Association of Insolvency and Restructuring Professionals (CAIRP) says the financial consequences of the pandemic, the economic volatility fueled by this year's record-high inflation, and consecutive interest rate hikes are driving more businesses to seek restructuring and/or debt-relief options. According to the latest statistics, business insolvency filings in Canada are up 26.3% in the first six months of 2022. A total of 1,603 business insolvency proceedings filed under the Bankruptcy and Insolvency Act (BIA) between January and June, a significant jump from the 1,269 business insolvencies filed in the previous six months. In the second quarter, business insolvencies are up 30.9% compared to the same quarter last year, remaining relatively static compared to the previous quarter (-1.4%).
"We expect to see additional pressure on debtors and a subsequent increase in the number of business insolvencies, as higher borrowing and input costs impact businesses still struggling to recover from the pandemic," says Jean-Daniel Breton, Chair of CAIRP, the national voice on insolvency matters in Canada. "Post-pandemic, creditors are re-evaluating their approach to issuing credit as well as debt recovery. As a result, we are likely to see upward growth in insolvencies."
For the 12 months ending June 30, 2022, business insolvencies are up 14.6%, compared to the previous 12-month period, as filings continue to climb closer to pre-pandemic levels. Those numbers are likely to climb as the effects of the most recent interest rate increase - the largest in more than 20 years - are felt in the coming months.
"It is important to note that the increase in business insolvencies isn't all bad news. It means businesses are taking proactive measures to put themselves on a more stable financial footing. Working with federally-regulated Licensed Insolvency Trustees, they can explore restructuring options and alternatives to bankruptcy. The sooner distressed businesses seek out the assistance of a Licensed Insolvency Trustee, the more restructuring options may be available to them," says Breton.  
Of the 796 business insolvencies in the second quarter, nearly a quarter (21.7%) were proposals. Only available through a Licensed Insolvency Trustee (LIT), a proposal is a formal, legally binding process in which the Trustee works with the business owner to develop an offer to pay creditors a percentage of what is owed, or extend the time to pay off the debts, or both, allowing the business to avoid bankruptcy.
"Not all situations end in bankruptcy. Trustees provide advice to help make the business viable again or provide options to formally wind down the business while helping liquidate assets, balancing the rights of creditors and the debtors, and protecting employees who may be owed wages," says Breton.
"Looking ahead, businesses in industries most affected by fluctuations in cost and supply chain pressures and changes in business and consumer confidence are the most vulnerable," he adds.
The sectors registering the biggest increase in the number of insolvencies for the 12-month period ending June 30, 2022, compared to the previous period, were the construction and the transportation and warehousing sectors. Meanwhile, the most significant decreases were seen in the mining and oil and gas extraction sector and the finance and insurance sector.
Consumer insolvencies reach a two-year high as Canadian households face cost-of-living squeeze
Consumer insolvencies totalled 25,286 in the second quarter, climbing 9.2% over the previous quarter to the highest volume in two years. Filings have been steadily increasing for the last few quarters, continuing to edge closer and closer to pre-pandemic levels. Consumer insolvency filings increased 10.5% compared to the same quarter of last year and 32% compared to 2020, yet filings are still 27.9% lower than pre-pandemic in 2019.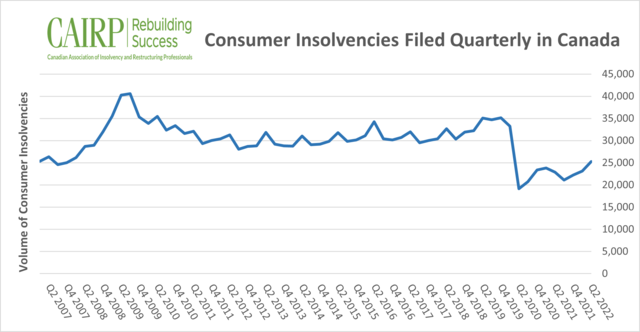 Image inclusion: Consumer insolvencies reach highest volume in two years as insolvencies continue upward trend toward pre-pandemic levels.
"Cost of living increases are having an immediate impact on household budgets. At the same time, rising interest rates and the subsequent increase in debt carrying costs are having gradual but significant effects," says André Bolduc, Vice-Chair of CAIRP and Licensed Insolvency Trustee.  "Many may continue to rack up more debt to make ends meet – whether by taking on loans, increasing home equity lines of credit (HELOCs) or spending on credit cards – but that is simply pouring fuel onto the fire."
Bolduc notes that prior to the pandemic, consumer insolvencies were trending upward. Then pandemic-related factors including government financial support sent insolvencies down forty per cent. The volume of insolvencies is now normalizing as consumers come to terms with the financial impact of COVID-19 and the higher interest rate environment.
In June alone, insolvency proceedings filed by individuals are 19.6% higher than the same month in 2021, the largest increase seen over the past year.
Bolduc says those struggling with large amounts of debt should speak with a government-licensed Licensed Insolvency Trustee. They are the only debt-relief professionals in Canada who are legally and ethically bound to provide accurate, unbiased advice. With years of training, solid accounting expertise and extensive knowledge of governing legislation, they advise individuals about all of the debt-relief options available, including consumer proposals and bankruptcy, and offer legal protection from creditors.
"Many hesitate to seek the advice of a Licensed Insolvency Trustee due to the stigma of bankruptcy. But in fact, we can offer options for insolvent consumers to avoid bankruptcy by negotiating an agreement with creditors to reorganize their financial affairs. This process, called a consumer proposal, can only be done by speaking with a Licensed Insolvency Trustee," says Bolduc.
Typically, initial consultations with a Licensed Insolvency Trustee are free. Anyone facing serious debt challenges can receive expert advice with no commitment and no upfront fees. To find a Licensed Insolvency Trustee visit: www.cairp.ca/trustee