CAIRP: March 2021 & Q1 2021 Canadian Insolvency Statistics
March consumer insolvencies spike to highest level in a year heading toward pre-pandemic levels; Q1 consumer filings lagging
May 13, 2021
Q1 business bankruptcies at all time quarterly low  
TORONTO, ON – May 6, 2021 – The total number of consumer insolvencies filed in Canada increased by 22.8 per cent in March compared to February, the largest month over month increase in more than 10 years and the largest single month of new filing activity since the onset of the pandemic in March 2020.   
"After a year of record lows, consumer insolvencies spiked in March compared to February with the volume of filings returning to near pre-pandemic levels," says Mark Rosen, Chair of the Canadian Association of Insolvency and Restructuring Professionals (CAIRP), the national voice on insolvency matters in Canada. "Filings fell significantly last April as Canadians faced COVID-related financial uncertainty.  They remained low over the last twelve months with government aid programs and creditor flexibility helping many people who were already facing insolvency delay the inevitable. Now it seems we are starting to see that backlog emerge."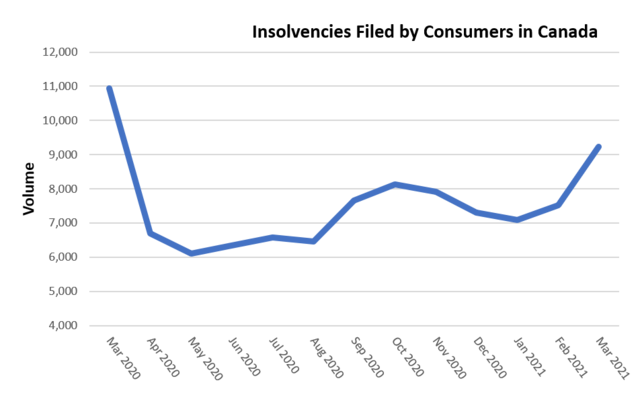 Consumer insolvency filings heading back towards levels seen at the beginning of the pandemic.
The data, which is compiled and tracked by the Office of Superintendent of Bankruptcy (OSB), shows that despite the volume increase in March, consumer filings were down 28.3 per cent in the first quarter of 2021 compared to the same period in 2020. For the 12-month period ending March 31, 2021, they were down 37.0 per cent, according to the data.
"Given the massive economic slowdown and job loss caused by the pandemic, the consumer insolvency data over the last year seems to defy logic," says André Bolduc, executive board member of CAIRP and Licensed Insolvency Trustee. "As we approach the second quarter of 2021 with the vaccine roll-out moving slowly, re-openings stalled and government support programs winding down, more Canadians will look at debt-relief options."
The insolvency process in Canada exists as a safety valve for individuals in financial distress. Administered by government-regulated Licensed insolvency trustees, bankruptcies and proposals offer the possibility of a fresh start and discharge from debt. Licenced Insolvency Trustee provide unbiased advice to debtors and protect their rights as well as the rights of creditors.
"Those who are struggling are generally better off seeking guidance from a licenced professional because the insolvency process automatically protects them from creditors' collection efforts and provides them with a systematic way of working out their repayment plans with expert guidance," explains Bolduc.  
Across Canada, Alberta (10.5%), British Columbia (7.2%) and Saskatchewan (6.5%) saw the largest rises in consumer insolvency filings in the first quarter of 2021 compared to the previous quarter. Manitoba (3.7%), Quebec (2.7%), Nova Scotia (1.2%) and Prince Edward Island (1.0%) registered smaller increases. Meanwhile, New Brunswick (-6.1%), Newfoundland and Labrador (-3.6%) and Ontario (-2.5%) all experienced a decrease in filings compared to the fourth quarter of 2020.
Quarterly business bankruptcies lowest in 35 years of records
The first quarter of 2021 saw the lowest number of business bankruptcies in 35 years of records, with 603 companies filing. That represented a 9.7 per cent drop compared to the previous quarter and 31.7 per cent drop compared to the first quarter in 2020. For the 12-month period ending March 31, 2021, business insolvencies were down 30.2 per cent compared with the same period in 2020.
"Many companies have amassed a crippling amount of debt during the pandemic. On top of that, the business climate will be challenging for the foreseeable future," explains David Lewis, a corporate Licensed Insolvency Trustee and member of CAIRP. "Many companies that were viable under normal circumstances will be forced to consider insolvency, restructuring or simply closing their doors. Before making any decisions, business owners should speak with a trustee to see if there are debt relief or reorganization options for them."
The most recent Canadian Survey on Business Conditions from Statistics Canada foreshadows a wave of corporate insolvencies ahead. It found that over half (51.3%) of businesses don't know how long they could continue to operate at their current level of revenue and expenditures before considering closure or bankruptcy.