CAIRP: July 2020 Canadian Insolvency Statistics
After plummeting at the onset of the pandemic, consumer insolvencies begin upward trend
September 2, 2020
TORONTO – September 2, 2020 – The number of Canadians who filed for insolvency increased in July compared to June perhaps signalling the beginning of an upward trend. According to insolvency statistics released today by the Office of the Superintendent of Bankruptcy, consumer insolvencies increased 3.7 per cent in July following a 3.9 per cent increase in June. At the onset of the pandemic, consumer insolvencies dropped a staggering 38.8 per cent in April and again by 8.8 per cent in May. Consumer insolvencies for the 12-month period ending July are still down 10.6 per cent compared with the same period last year.
"Prior to the widespread income shock and economic uncertainty brought on by COVID, consumer insolvencies were on the rise in Canada. The latest stats may point to a return to that trend," says Mark Rosen, Chair of the Canadian Association of Insolvency and Restructuring Professionals (CAIRP). "At this point, it is impossible to understand exactly how much the pandemic will impact the number of insolvency filings, but all signs point to a tough road ahead particularly as financial support decreases or runs out entirely."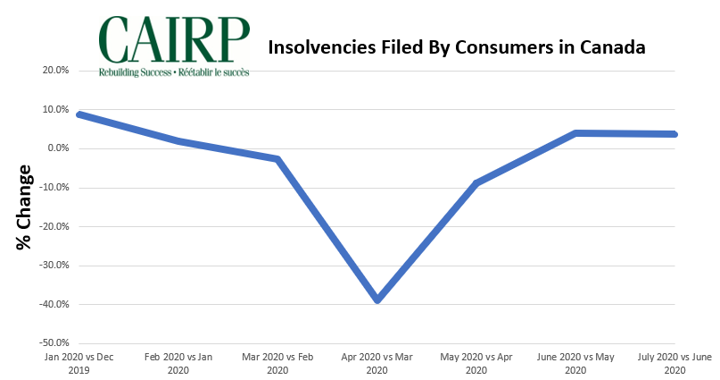 Monthly Canadian consumer insolvencies begin to trend upward
With the Canada Emergency Response Benefit (CERB) ending soon, many will be transitioning to employment insurance (EI). For some, this will mean smaller payments each month. Others will be ineligible for EI but may seek newly announced recovery benefits for temporary income support.
"There is a large proportion of Canadians who are already technically insolvent; they are unable to pay their bills and debt repayment obligations each month. Most who are in this position are using COVID-related financial support to make ends meet. But we know that many of these individuals will need debt relief when the temporary support ends," says André Bolduc, a Licensed Insolvency Trustee and executive board member of CAIRP which is the national voice on insolvency matters in Canada, representing nearly 1500 insolvency and restructuring professionals.
Looking across the country, Atlantic Canadians appear to be the hardest hit, experiencing the largest increases in consumer insolvencies. Compared to the previous month, Prince Edward Island had by far the greatest increase in July (+41.7%), followed by Newfoundland and Labrador (+18.1%), Nova Scotia (+11.2%) and New Brunswick (+6.8%). The trend upward continued across most of the country, including in Quebec and British Columbia (+4.7%), Ontario (+4.5%), and Alberta (+1.7%). Provinces that saw exceptions to this trend were Manitoba (-20.7%) and Saskatchewan (-8.6%).
"While the pandemic has been a financial struggle for most, those who were already living paycheque to paycheque are particularly vulnerable to income shock. They do not have the level of savings or investments necessary to fall back on," explains Bolduc. "If these individuals begin to rely on credit as a means of supplementing their income, they are absolutely setting themselves up for financial trouble. My biggest advice to Canadians in this position is: if you wouldn't be able to pay your monthly bills without the help of the current government financial support, now is the time to seek out professional advice."
As the only federally regulated debt professionals, Licensed Insolvency Trustees provide customized, impartial guidance on the wide range of debt-relief options available to Canadians. These may include striking a deal with creditors through an informal debt settlement; consolidating all debts into one monthly repayment; making a debt repayment plan through a consumer proposal; or declaring bankruptcy.
"The stigma surrounding debt relief and bankruptcy prevents many from seeking professional help when they need it. But those who do will have far more relief options available to them," says Bolduc. "Many of our clients are surprised to learn that Licensed Insolvency Trustees can even help individuals avoid bankruptcy. Our primary objective is to help individuals deal with their financial problems so that they can make a fresh start."
In cases where a bankruptcy or proposal is determined to be the most suitable option, a Licensed Insolvency Trustee will ensure that the debtors' rights are not abused while also protecting the rights of creditors. Once an insolvency is filed or a consumer proposal is submitted, they will communicate directly with creditors on behalf of the debtor to ensure protection from collections agencies and wage garnishments.
Business Insolvencies Drop in July after Increases in May and June
In July, business insolvencies declined by 12.8 per cent compared to the previous month, after steady increases in May and June of 17.7 per cent and 29.5 per cent respectively. Business insolvencies for the 12-month period ending July 31, 2020, decreased by 18.2 per cent compared with the 12-month period ending July 31, 2019.
"This business climate will be challenging for the foreseeable future – and will not become any easier as government support packages begin to wind down. It may not be long before companies that were viable under normal circumstances may consider insolvency or restructuring options," says Rosen.