CAIRP: Annual & Quarterly Canadian Consumer Insolvency Statistics
Consumer Insolvencies in Canada Jump 11.2% in 2022
September 22, 2023
TORONTO – February 9, 2023 – The latest Canadian insolvency statistics from the Office of the Superintendent of Bankruptcy show the number of consumer insolvencies filings in 2022 jumped 11.2%, with 100,184 consumer insolvencies filed in 2022 compared to 90,092 in 2021. In the fourth quarter of 2022, 25,885 consumer insolvencies were filed. The Canadian Association of Insolvency and Restructuring Professionals (CAIRP), the national voice on insolvency matters in Canada, says the fourth quarter volume was higher than any other quarter last year, and was the highest volume seen since the first quarter of 2020 at the onset of the pandemic.
CAIRP expects those numbers may climb higher in 2023 as the full effects of the past year's successive interest rate hikes and high inflation begin to hit household budgets.
"As we head into 2023, we will likely see insolvency filings increase, as the gradual effects of the past year's repeated interest rate hikes begin to have a more profound impact on household budgets in the form of higher debt servicing costs," says André Bolduc, Licensed Insolvency Trustee and Vice-Chair of CAIRP.
"Those with variable rate loans are already shouldering higher carrying costs, and many are struggling to service their debt. This is compounded by a fairly high rate of increase in prices for food, energy and other essential consumer goods. While some homeowners haven't yet felt the impact of rising interest rates, those who have a mortgage up for renewal this year may be in for a payment shock, as the higher rate environment could drive their payments up significantly," adds Bolduc.
2022 Consumer Insolvency Trends in Canada
Annually, consumer insolvencies in 2022 were 11.2% higher than in 2021 and 3.9% higher than in 2020, while still remaining 27.0% lower than in 2019 pre-pandemic.
"After two years of record low levels of consumer insolvencies, we saw a notable uptick in 2022 back towards pre-pandemic levels. Record-high inflation last year hit many households hard as they struggled with the rising costs of living," says Bolduc.
In the fourth quarter of 2022, consumer insolvencies were 16.3% higher than in the same quarter of 2021 and were 10.8% higher than in 2020. The number of individuals who filed a consumer insolvency was still 26.4% lower than in 2019. Filings remained stable from the third quarter of 2022, with a 0.1% increase quarter-over-quarter.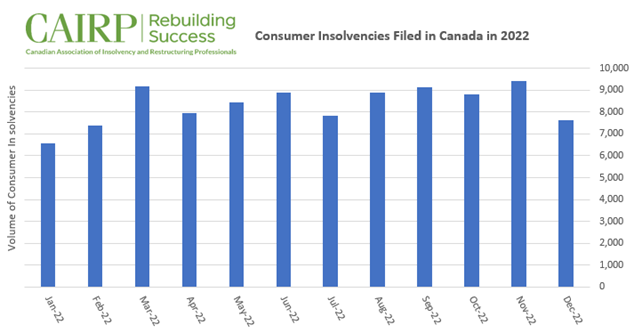 Image inclusion: 100,184 consumer insolvencies were filed in 2022, increasing 11.2% compared to 2021, climbing back towards pre-pandemic levels after two years of record lows.
Across the country, Quebec (25,433), Ontario (34,736) and Alberta (14,875) saw the largest volumes of consumer insolvencies in 2022. All provinces saw an increase in consumer insolvencies in 2022. The provinces with the largest percentage increases in consumer insolvencies were British Columbia (+16.9%), Prince Edward Island (+15.4%), and Nova Scotia (+15.3%).
In 2022, the majority of consumer insolvencies filed were proposals (75.5%) and the minority were bankruptcies (24.5%). The share of proposals among consumer insolvency filings grew 6.0% from 69.5% in 2021 to 75.5% in 2022.
"Bankruptcy is not the only answer to financial problems, there are other options that can help an individual avoid bankruptcy by negotiating an agreement with creditors to reorganize their finances, which is called a consumer proposal," says Bolduc. "The stigma of bankruptcy keeps many people from seeking help, but the sooner they reach out to a Licensed Insolvency Trustee, the more debt relief options that will be available to them."
Canadians Cautioned to Seek Debt Help from Government-Regulated, Licensed Professionals
As more Canadians began filing insolvencies last year, the Office of the Superintendent of Bankruptcy (OSB) and CAIRP issued a consumer alert to urge Canadians experiencing personal financial challenges to speak with government-regulated licensed professionals, as some unregulated debt advisory firms have been observed misrepresenting the services they offer and misleading insolvent individuals to pay unnecessary fees for debt relief. They noted that some charge hundreds or even thousands of dollars for services they are not licensed to provide, or for unnecessary services offered before, during or after a consumer proposal or bankruptcy filing.
"As more Canadians reach their breaking point and look for solutions to their debt struggles, we are urging them to be wary of quick fix promises and ensure they are receiving advice from reputable sources," says Bolduc.
He says anyone who anticipates they will miss upcoming loan payments or is receiving collection letters or phone calls from creditors should consult with a Licensed Insolvency Trustee. Licensed Insolvency Trustees, who are federally regulated, are the only debt relief professionals in Canada who can administer consumer proposals and bankruptcies, as well as offer legal protection from creditor actions and stop collection calls and wage garnishments.
Licensed Insolvency Trustees are required by law to offer a complete assessment of an individual's financial situation, explain all the options for debt relief, and are legally and ethically bound to offer accurate, unbiased advice.
Typically, initial consultations with a Licensed Insolvency Trustee are free, so that individuals can receive expert advice with no commitment and no upfront fees. To find a government-regulated Licensed Insolvency Trustee visit:  www.cairp.ca/find-a-lit.html. 
For media representatives who would like to speak with one of our experts, contact:
Angela Joyce
Media Relations
Tel: 403-681-9286
aj@whiterabbitpr.com