CAIRP: Annual & Quarterly Canadian Business Insolvency Statistics
Business Insolvencies in Canada Jump 37.2% in 2022, the Largest Increase in Over 30 Years
February 9, 2023
TORONTO – February 9, 2023 – Business insolvencies in 2022 surged by 37.2% in 2022, the largest year-over-year percentage increase in over 30 years, according to the Canadian Association of Insolvency and Restructuring Professionals (CAIRP), the national voice on insolvency matters in Canada. The latest insolvency statistics from the Office of the Superintendent of Bankruptcy find about 3,400 Canadian businesses filed in 2022, up from 2,480 in 2021. With inflation increasing input costs and interest rates continuing to push up borrowing costs, CAIRP expects business insolvency filings will continue on this upward trend into 2023.
"Inflation has pushed up the cost of everything from raw materials to fuel, putting significant financial strain on businesses. At the same time, consumers are grappling with the cost of living and reducing their spending. As business owners struggle to manage these impacts in addition to debt carrying costs becoming increasingly expensive, we anticipate the number of businesses seeking restructuring or debt relief options will continue to grow in 2023," says Jean-Daniel Breton, Chair of CAIRP.
Annually, business insolvencies in 2022 were 37.2% higher than in 2021 and 22.1% higher than in 2020, while still 7.6% below 2019 pre-pandemic volumes.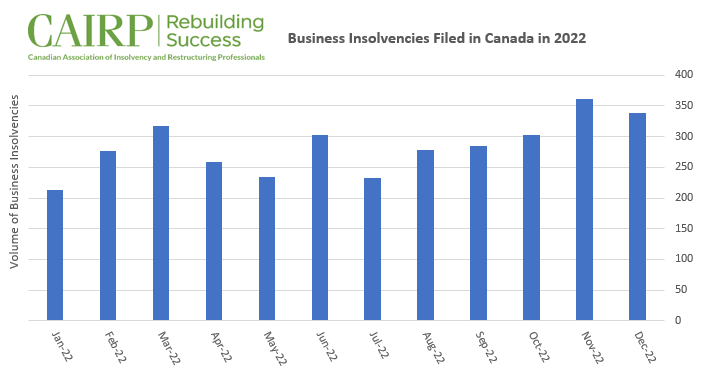 Image inclusion: 3,402 business insolvencies were filed in 2022, increasing 37.2% compared to 2021, the largest year-over-year percentage increase in over 30 years.
Across Canada, Quebec (1,945), Ontario (906) and Alberta (237) reported the largest annual volume of business insolvencies in 2022. The provinces with the largest percentage increases in business insolvency filings in 2022 were New Brunswick (+116.7%), British Columbia (+106.8%), and Alberta (+70.5%).
The sectors registering the largest increase in the number of insolvencies in 2022 compared to 2021 were the construction (+150), accommodation and food services (+133) and retail trade (+119) sectors. The only sectors to see a decrease in the number of insolvencies were the finance and insurance (-13), mining and oil and gas extraction (-10), and real estate and rental leasing (-2) sectors.
"The construction, accommodation and food services, and retail trade sectors have been hit hard over the past year. Many businesses in these sectors have suffered the pressures of rising costs, worker shortages and staff retention problems, and weakening consumer demand," says Breton.
2022 Canadian Business Insolvency Trends: Post-Pandemic Fallout
Business insolvencies in the fourth quarter were 36.8% higher in 2022 than the same quarter last year, 50.1% higher than the same quarter in 2020, and 10.6% higher than in 2019 pre-pandemic. Filings increased 26.0% in the fourth quarter compared to the third quarter of 2022. More than 1,000 businesses filed, reaching the highest quarterly volume since 2016.
"For the last few quarters, business insolvency filings have jumped significantly year-over-year. In the fourth quarter of 2022, the number surpassed pre-pandemic levels which suggests some catching up from businesses that were artificially propped up during the pandemic," explains Breton. "Many businesses in Canada entered 2022 in recovery mode as a result of the pandemic, and then experienced many additional hurdles over the past year, including supply chain disruptions and rising business costs, which exposed corporate vulnerabilities."
In 2022, the majority of business insolvencies filed were bankruptcies (77.0%) and the minority were proposals (23.0%). The share of proposals among business insolvency filings grew slightly, from 21.7% in 2021 to 23.0% in 2022. Proposals are a formal, legally binding process in which the Trustee works with the business owner to develop an offer to pay creditors a percentage of what is owed and/or extend the time to pay off the debts, allowing the business to avoid bankruptcy. Proposals are only available through a Licensed Insolvency Trustee.
"The high cost of doing business is whittling down already thin margins for firms. Directors are facing increasingly challenging budgeting decisions as they try to cover their fixed costs such as rent and interest payments amid cash flow pressures," says Breton.
Those in this position can benefit from consulting with a Licensed Insolvency Trustee who, due to their accounting expertise and extensive knowledge of governing legislation, is uniquely qualified to navigate the complexities of the business and help restructure or rehabilitate.
Breton points out that the increasing insolvency numbers can also be seen as a positive sign that more businesses are choosing to take proactive measures to put themselves on more stable ground financially.
He says small business owners struggling financially sometimes choose to walk away from the business rather than taking formal steps to wind down the business, eliminating the possibility of preserving their ongoing business operations and forgoing guidance on restructuring and corporate workouts.
"By simply walking away, some small business owners are forgoing any potential opportunity to restructure the business into a going concern or if that is not possible, then to optimize the recovery for creditors and the business' employees. A Licensed Insolvency Trustee can provide advice to help make the business viable again or offer options to formally wind down the business while ensuring there is a balance between the rights of the creditors and the debtors," says Breton.
"We strongly urge directors of any business in financial distress to engage proactively with their shareholders, lenders, suppliers and credit insurers and take early action to seek professional advice from a Licensed Insolvency Trustee. This will ensure there is sufficient time to develop and implement a robust recovery strategy," Breton adds.
To find a government-regulated Licensed Insolvency Trustee visit:  www.cairp.ca/find-a-lit.html.