Feature

Insolvency in Canada's Northern Territories

September 20, 2022

In the North, everything is different – and insolvency is no exception.

Cases we are following

In Case You Missed It: Decisions on Our Radar

September 20, 2022

The financial restructuring group at Davies Ward Phillips & Vineberg LLP is tracking the following appeals.

CAIRP Chair's Reflections

Chair's Reflections

September 20, 2022

Jean-Daniel Breton, CPA, FCIRP, LIT It is hard to believe that it has been almost a year since I assumed the role of CAIRP Chair. Since my last message, change has been the only constant, as our industry...

Economic Commentary

Ukraine War: Impact on the Canadian Economy

September 20, 2022

By Jim Algie Ukraine war shocks add to a growing list of social, economic and geopolitical factors to boost global, business uncertainty and trigger rising expectations for Canadian insolvency rates....

Opinion

Enterprise Growth, Business Insolvency and Managerial Competence

September 20, 2022

By Dr. Benoit Mario Papillon, Professor, Dept. of Finance and Economics, Business School, University of Quebec -- Growth and insolvency: a surprising correlation -- As the saying goes, you have to have...

Academic Perspective

Family Law Costs Awards in Insolvency Proceedings

March 7, 2022

By Anna Lund, Associate Prof., Faculty of Law, University of Alberta and Breanna Case, BA (hons), MA, JD Candidate 2022, University of Alberta Individuals starting insolvency proceedings commonly report...

Consumer Insolvency

Credit Reporting Errors – The Role of the LIT

September 20, 2022

By Chelene Riendeau, CIRP, LIT, Vice President, Consumer Insolvency, MNP Ltd. You've issued the debtor a Certificate of Discharge or a Certificate of Full Performance and have sent them off, free from...

Corporate Insolvency

Which bells and whistles? Procedural creativity in resolving disputed claims

September 20, 2022

By Mary Paterson, Emily Paplawski, and Mary Angela Rowe, Osler, Hoskin & Harcourt LLP In the insolvency context, claims disputes are typically resolved through a summary process rather than through a...

Interview

Mahesh Uttamchandani: Taking Canadian Insolvency Know-How to the World

September 3, 2021

By Andrew Flynn With the poise and confidence one might expect from a big wheel on the world financial stage, Mahesh Uttamchandani expounds on global financial issues with authority from his home in...

Book Review

An Overview of "Reinventing Bankruptcy Law": A History of the Companies' Creditors Arrangement Act

September 3, 2021

Virginia Torrie, Associate Professor, University of Manitoba, Faculty of Law

Historical Perspective

One Hundred Years of Bankruptcy and Insolvency Law in Canada

February 24, 2022

July 1, 2020 marked the centenary of Canada's foundational bankruptcy statute. Parliament passed the Bankruptcy Act in 1919 and it came into force the following year. The 100th anniversary of this statute...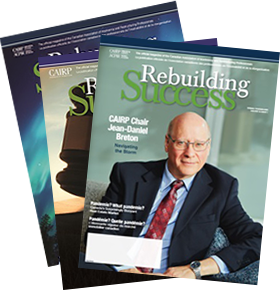 Rebuilding Success Magazine
Rebuilding Success is a must-read magazine for current and future insolvency and restructuring professionals, and stakeholders within the industry. Read the latest digital issue and browse the magazine archives.
Read the issues
Welcome to the official blog of the Canadian Association of Insolvency and Restructuring Professionals! We hope you will enjoy insightful and informative posts by our team of expert bloggers on a wide range of topics, including individual, small business and corporate insolvencies, budgeting, financial planning, credit rebuilding and other money management tips for anyone looking to live a debt free life.
September 21, 2022
All across the country, students are starting a new school year this month. Smiling, eager teachers are greeting them at the doors. There's no doubt, September is a time of exciting transitions for many—and...
Learn More
Find out the latest news from CAIRP on the insolvency and restructuring industry. A full list of press releases from recent years is available in this section.
For media enquiries, please contact Angela Joyce, Managing Director, White Rabbit Communications at aj@whiterabbitcommunications.com.
CAIRP: Q2 2022 Canadian Insolvency Statistics

August 11, 2022

TORONTO – August 5, 2022 – The Canadian Association of Insolvency and Restructuring Professionals (CAIRP) says the financial consequences of the pandemic, the economic volatility fueled by this year's...

CAIRP: Q1 2022 Canadian Insolvency Statistics

May 18, 2022

TORONTO – May 12, 2022 – Business insolvency filings in Canada rose 33.8 per cent in the first quarter of 2022 compared to the same quarter last year, the highest year-over-year increase in 31 years,...

CAIRP: Q4 Canadian Insolvency Statistics

February 10, 2022

TORONTO – February 4, 2022 – The number of Canadian business insolvencies jumped 36.8 per cent in the fourth quarter. It was the largest rate of increase in 35 years of records tracked by the Office...