Feature

Recession, inflation, and interest rates, oh my!

February 6, 2023

Is a "perfect storm" of economic factors setting the stage for a big spike in insolvencies in the next few years?

Cases we are following

In Case You Missed It: Decisions on Our Radar

February 23, 2023

by Natasha MacParland, Partner, Davies Ward Phillips & Vineberg LLP The financial restructuring group at Davies Ward Phillips & Vineberg LLP is tracking the following appeals. We have briefly described...

CAIRP Chair's Reflections

Chair's Message: Rebuilding Success

February 21, 2023

As I reflect on the last few months this fall and winter, I have to admit it has been hectic, a beehive of activity. In this Chair's message, I want to focus on a few of the items that have kept us...

Economic Commentary

Life After Covid: Even More Volatility Ahead

February 6, 2023

Stephen Poloz, Special Advisor with Osler, Hoskin, and Harcourt, and Author of "The Next Age of Uncertainty" The Canadian economy was in excellent shape when the pandemic struck in early 2020. Inflation...

Opinion

The Tug-of War for Control: Considerations to Succeed between Dueling CCAA and Receivership Applications

February 6, 2023

Shaun Parsons, Associate, Reconstruct LLP Sponsored Content The commencement of contentious insolvency proceedings can slip into a tug-of-war for control of the process between the debtor entity and...

Academic Perspective

The impact of COVID-19 on the bankruptcy and insolvency system in Quebec on MSMEs

February 6, 2023

Full Professor Aurore Benadiba, LL.D., Université Laval The COVID-19 pandemic has had significant economic and social impact on many micro, small and medium-sized enterprises (MSMEs) in Quebec and across...

Corporate Insolvency

Dealing with Intellectual Property during Bankruptcy and Insolvency

February 6, 2023

By Ian McMillan, Paul Blizzard, and Leanne Young, Bereskin & Parr LLP Intellectual property (IP) plays a central role in the innovation economy. IP rights help foster innovation by providing inventors...

Corporate Insolvency

Sharing the Burden: The Limits of Relief from Forfeiture of Commercial Leases

February 6, 2023

Matilda Lici The emergence of COVID-19, and the ensuing government mandates and public health measures, threw a wrench in commercial relationships. The retail sales sector was dramatically affected,...

CAIRP Awards

Recognizing the Extraordinarily Exceptional!

February 6, 2023

By Donna Collins, FCIRP (ret.) In any given year, a high percentage of CAIRP's members volunteer their time and expertise in some capacity. These volunteers have discovered the secret of volunteerism...

Book Review

An Overview of "Reinventing Bankruptcy Law": A History of the Companies' Creditors Arrangement Act

February 6, 2023

Virginia Torrie, Associate Professor, University of Manitoba, Faculty of Law The Companies' Creditors Arrangement Act (CCAA) has been on Canada's statute books for almost 90 years. In the last four...

Historical Perspective

One Hundred Years of Bankruptcy and Insolvency Law in Canada

February 6, 2023

July 1, 2020 marked the centenary of Canada's foundational bankruptcy statute. Parliament passed the Bankruptcy Act in 1919 and it came into force the following year. The 100th anniversary of this statute...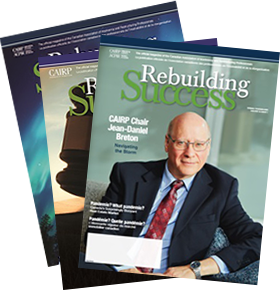 Rebuilding Success Magazine
Rebuilding Success is a must-read magazine for current and future insolvency and restructuring professionals, and stakeholders within the industry. Read the latest digital issue and browse the magazine archives.
Read the issues
Welcome to the official blog of the Canadian Association of Insolvency and Restructuring Professionals! We hope you will enjoy insightful and informative posts by our team of expert bloggers on a wide range of topics, including individual, small business and corporate insolvencies, budgeting, financial planning, credit rebuilding and other money management tips for anyone looking to live a debt free life.
September 27, 2023
September is always a season of change. As young children take their first steps into learning, older children begin to consider their options for work life or post-secondary education. As parents, guardians...
Learn More
Find out the latest news from CAIRP on the insolvency and restructuring industry. Press releases from recent years are available in this section.
For media enquiries, please contact Angela Joyce, Media Relations, at aj@whiterabbitpr.com.
CAIRP: Q2 2023 Canadian Insolvency Statistics

August 3, 2023

TORONTO – August 3, 2023 – Canadian business insolvencies were up 36.9% year-over-year for the second quarter, reaching 1,090 business insolvency filings, the highest quarterly volume since 2014....

CAIRP: Q1 2023 Canadian Insolvency Statistics

May 10, 2023

More than 29,700 people became insolvent in the first three months of 2023 – an average of 330 people each day

CAIRP: January 2023 Canadian Insolvency Statistics

March 1, 2023

TORONTO – March 1, 2023 – Consumer insolvencies in Canada spiked in the first month of 2023, increasing 33.0% on a year-over-year basis. Compared to the previous month, consumer insolvency filings...